This week's Sunday Social is all things Halloween. If you want to participate in the weekly link party, head over
here
+ join in on the fun.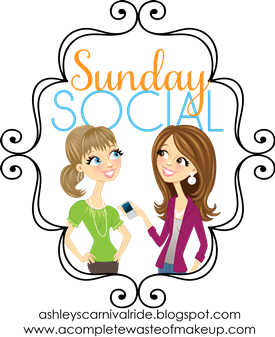 1. What was your favorite Halloween costume as a kid? My Rainbow Brite costume! My mom always made us the most amazing costumes.
2. If you could go back and dress up as something what would it be? Ooooh, I don't know. I can always utilize older ideas for another Halloween down the road.
3. Favorite costume as an adult? My friend Tom + I dressed up as characters from the film, Juno. That was probably the best, only because people who didn't know me really thought I was pregnant, hah! My mom, of course, made the belly for the costume, which was fantastic [she's a genius with a sewing machine]. Definitely need to start working with one more.
4. Favorite Halloween Candy? I don't know if there is anything specific that I crave around Halloween. I will tell you this – I used to have a serious addiction to Nerds Ropes, which I just happened to consume in the fall/winter months.
5. Favorite Halloween Memory? Probably the year my brother + I begged my mom to have store-bought costumes. I know it KILLED her to buy them, but we wanted those craptastic plastic masks like the rest of our friends. When I looked back on the pictures, I laugh at how horrible we looked.
6. What is your favorite scary movie? Scary movies + I don't mix well – I'm afraid of my own shadow! The only ones I've been able to stomach without having nightmares for days on end are those in the Scream series.