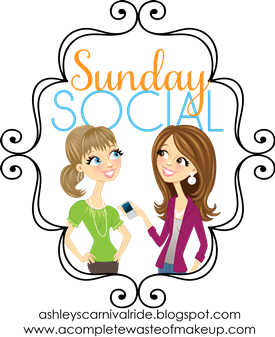 Sunday Social is back to the good ol' Q+A this week. If you want to link up + join in on the fun, head over to A Complete Waste of Makeup.
01. Favorite childhood book? I was an extreme bookworm as a child. I once finished a book from The Baby-sitters Club series from start to finish while my mother was getting her hair permed at the mall. To choose only one book is extremely difficult, but I am going to go with Are You There God? Its Me, Margaret.
02. Favorite Book lately? I will always go back to Nick Hornby's High Fidelity [I recently gushed about the book over on Literate + Stylish]. I am currently reading Neil Gaiman's The Graveyard Book.
03. Book you wish you could live in? Ooooh, I'm going with a graphic novel for this one [technically, it IS a book]. Ghost World! Enid + Rebecca have the raddest, most random adventures.
04. If you could be any character from a book who would it be and why? Enid Coleslaw, from Ghost World. Enid + I share elements of weird that I totally dig.
05. Favorite Book turned Movie? I sound like a broken record, but again, High Fidelity. Its rare to find a book that is turned into a well made film. I love both!
One of the photos used for Literate + Stylish.
06. Favorite Magazines? Nylon, Paper, Rolling Stone + Spin. I also really love Long Island Pulse Magazine – I intern for them! While I dig other publications, these are usually the only ones I snag issues of - everything else I read online.